Bristlecone offers several organized youth programs, as well as a few classes and competition types that are appropriate for youth with some shooting sports experience.
Bristlecone Youth Shooting Club
Bristlecone is dedicated to the development of youth in the Shooting Sports. This group was created for kids between the ages of 10 and 17 to enjoy the shooting sports in a community environment. Each week will bring a different activity (competition, skill development) in the range, as well as time for the participants to socialize and work with their Instructor on improving their skills. All skill levels welcome. Participants must be between the ages of 10 and 17. Select Wednesdays 6-8PM. Pizza and beverages will be provided. Rental firearms included if needed (participants may bring their family firearms with Instructor approval). Ammunition not included. Call 303.985.0989 or visit our class calendar page for upcoming dates and to register.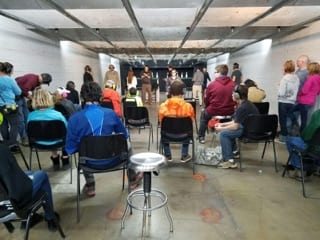 Scouts Venturing Crew #1911
Venturing Crew 1911 is a Boy Scouts of America sponsored inclusive group that meets on the 1st and 3rd Wednesday of each month (6:30-8PM) at Bristlecone Shooting. The crew is appropriate for boys and girls between the ages of 14 and 20 that are looking to advance their skills in the shooting sports. Each meeting includes time on the range where participants can learn in a supportive environment amongst other youth and adult leaders. Email venturecrew1911@gmail.com for more information, or just come to one of the meetings to see for yourself if this is the right activity for the young sport shooting enthusiast in your family!