Corporate Memberships
A Bristlecone Corporate Membership is a unique employee benefit at an affordable cost.  Our Corporate Memberships come with 5 Membership cards and the ability to add an unlimited number of additional cards at a discount.  Check out all of the benefits you and your colleagues will enjoy as a Corporate Member at Bristlecone:
Benefits:
5 Membership Cards
Additional Membership Cards Can be Added at a Discount
Discounted Group Events
Free Range Use – Our members never pay to shoot on our lanes
Lane Reservation Privileges
50% Off Firearms Rentals (except full auto and suppressed)
Express Range Check Out
Free Eye & Ear Protection
Access to Member's Lounge (includes guests while with a member)
5% Off Regularly Priced Merchandise (not including firearms, bulk and personal defense ammunition)
10% Off Classes
Discounted Range Ammo
Discounted FFL Transfer Fee ($25 plus $10.50 NICS Fee)
1 Firearm Safety Check, 1 Firearm Cleaning Per Year
3 Guest Passes Per Year Per Member
Member Only Sales and Events, Plus Advanced Notice on Select Store-wide Sales
Private Locker Rental Opportunities
Pricing – choose either an annual or monthly structure to fit your plans and budget!
Annual:
$1500 for 5 Memberships (annually)*
$195 for each additional Member added
Monthly:
$695 Initiation Fee
$110/month
$195 for each additional Member added (annually)
*Customized pricing available for Memberships in excess of 30 people
What do our Members say?
"Excellent facility!  Staff are friendly and knowledgeable….Definitely my favorite local facility".

"Great staff, always friendly.  Nice, clean range.  I don't go anywhere else.  Been a Member for over two years."

"Member for a couple of years, now a Lifetime Member…In my opinion, best range in Denver area, and I've shot at most.  Range quality is superb. Very well maintained competition programs help to sustain and advance shooting skills…. Exceptional range staff with the highest professionalism.  Cannot recommend too highly."

"I haven't used firearms in forever. I was looking for a place I felt secure, safe and (with) experienced staff…. Best place, best people!!!… Bristlecone also (has) great classes and reasonable cost on everything they offer."

"Bristlecone Shooting Range is the nicest range I've ever been to.  They are the most safety conscious folks I've met at a range.  Very professional and nice people.  They also have 2 in-house Gunsmiths – convenient."

"Neat, great merchandise, awesome shooting booths, worthwhile training classes, and friendly employees."
Corporate Events
Many local companies come to Bristlecone for their team building, employee recognition and holiday events.  Bristlecone shooting events include a variety of live fire and non-firearms experiences that are sure to make your next meeting or party is one that your guests will not soon forget. Here are some of our facility's features that will ensure your guests have "An Extraordinary Recreational Experience!"
Numerous meeting, conference, and party spaces to choose from.
State-of-the-art Virtual Shooting Simulator, where you can take advantage of over 500 training scenarios or play on the entertainment side of the system.  Shoot zombies, prairie dogs, thugs, steel targets, and more!
Customizable live fire range experiences utilizing our 14 climate controlled lanes.  All necessary equipment and firearms can be provided.
Several catering options to choose from.
What do our Corporate Members say about events at Bristlecone?
"Our company held a management team building at Bristlecone last night. We had people who had never shot a gun before to military trained shooters. The Bristlecone staff did a great job training everyone in gun basics and safety. Our team had an excellent time doing an out of the ordinary event. The simulator as well as the range were first class and tons of fun. We ended the evening with a competition target shoot at 15 yards so everyone had a momento to take home. Highly recommended for any corporate event!"
                                                                                                                                                           -Todd Amen, CEO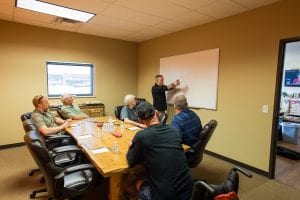 Contact
For more information or to schedule a tour, contact
Jennifer Stitt
Director of Membership
303.985.0989 xtn 114
jstitt@bristleconeshooting.com