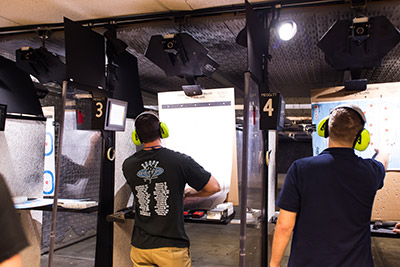 Bristlecone Shooting, Training & Retail Center is the premier indoor shooting range in the Denver metro area. Featuring 14 total lanes stretching 25 yards, our shooting range offers shooters of all experience levels a clean, friendly and accommodating environment for casual, tactical and competitive target shooting.
Bristlecone offers competitive pricing and discounted walk-in rates for use of our indoor shooting range. Our staff is knowledgeable about firearms and experienced in assisting both first-time and seasoned shooters. Bring your own pistol, rifle or shotgun, or rent one from our extensive selection of rental firearms — including suppressed and full-auto options — and choose from a variety of paper targets to take aim at on the range. Hearing and ear protection are required and available to purchase.
Shooting Range Pricing
Walk-in rates guarantee shooters at least one (1) hour on the shooting range. Only those who pay will be allowed on the range, regardless if they intend to shoot. Bristlecone members do not pay to use the shooting range and are the only shooters able to reserve lanes in advance.
Walk-In Rate: $20/person
Discounted Walk-In Rates:
Women – $17 (Free Tuesdays)
Senior (age 65+) – $16
Youth (ages 10-17) – $15
Military/Law Enforcement (Active/Veteran) – $16
First Responder (Fire/EMT/RN) – $16
Student/Educator – $16
Rental Firearm Pricing
Firearm rental rates are specific to firearm type. Once the rental fee is paid, shooters may switch out the firearm for other models of the same type as many times as they like without incurring an additional rental fee. Rental firearms must use specified ammunition purchased at the Bristlecone shooting range. Bristlecone members receive 50% off non-suppressed firearm rentals.
Handguns (Pistols and Revolvers): $15
Long Guns (Rifles and Shotguns): $20
Suppressed Firearms (Pistols and Rifles): $25
Full-Auto Firearms: $75 (50% off Fridays)
View our list of available rental firearms.
Bristlecone Membership
Membership has its benefits! Bristlecone members receive free access to the best indoor shooting range in the Denver metro area with the ability to make shooting range reservations and receive discounted pricing on firearm rentals, range ammunition and more.
View more information about Bristlecone membership, including membership benefits and membership pricing.