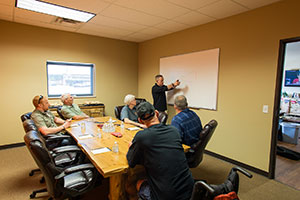 Looking for a unique place to host your next private or corporate event? Whether a birthday or bachelor/bachelorette party, team building activity or company fundraiser, business meeting or fantasy football draft, Bristlecone Shooting, Training & Retail Center provides a friendly, fun and accommodating space to host your meeting, party or event.
Indoor Shooting Range
The premier indoor shooting range in the Denver metro area, our shooting range features 14 total lanes stretching 25 yards, offering shooters of all experience levels an opportunity to engage in casual, tactical or competitive target shooting. Guests may bring their own pistols, rifles or shotguns, or rent from our extensive selection of firearm rentals — including suppressed and full-auto options. Hearing and ear protection is available to rent and purchase.

Our staff is expertly trained in gun handling and will be on hand to support every guest throughout your event.
Virtual Training Simulator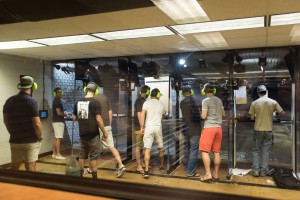 In addition to our indoor shooting range, Bristlecone is also home to a state-of-the-art Ti Outdoors Virtual Training Simulator. An immersive non-live fire shooting experience, our simulator offers basic and advanced training for handgun skill development and entertainment, including carnival games, competition stages and tactical self-defense scenarios.
The Virtual Training Simulator supports single users and multiple shooters at a time for individual training, head-to-head competitions and teamwork drills.
Private Rooms
When not shooting, Bristlecone offers private rooms for guests, offering quiet spaces to eat and drink, have a meeting or simply sit down and relax while watching TV. Depending on your event, choose from various size rooms and spaces, including our conference room, multiple classrooms and our comfortable Member's Lounge. Our private parking lot can also be reserved for large outdoor events.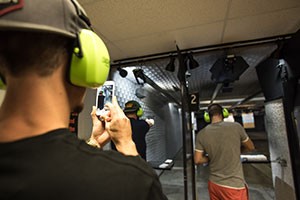 From the Denver metro area's premier indoor shooting range to our Virtual Training Simulator and numerous private rooms, Bristlecone Shooting, Training & Retail Center has the amenities to ensure your meeting, party or event guests have "An Extraordinary Recreational Experience!"
If interested in a private/corporate event, please contact us by phone at (303) 985-0989 or email at info@bristleconeshooting.com with specifics of your event, including date(s) and time(s), number of guests and desired activities. We look forward to hosting you at Bristlecone!