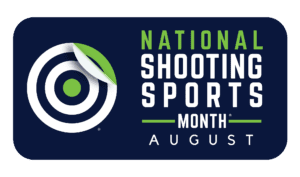 People can go target shooting year-round, but the month of August is National Shooting Sports Month—
a time for the community of firearms owners to celebrate and enjoy the shooting sports with friends,
family and newcomers they want to introduce to these lifetime activities. So, grab a friend or family member and bring them to Bristlecone for one of the many events, classes and specials we have planned this month!
First Shots Events
You never forget your first shots! Join the experts at Bristlecone Shooting, Training & Retail Center on select Saturdays throughout August for a welcoming introduction to the safe and recreational use of handguns, rifles and shotguns. Learn about the shooting sports in a safe and non-intimidating environment! Receive classroom instruction and then time on the range to take your first shots with a certified instructor. Everything is included in your registration – targets, ammunition, rental firearms, and eye/ear protection. Contact us at 303.985.0989 or bristleconeshooting.com to register!
#RangeChallenge
This summer there is a new game for EVERYONE to enjoy. The #RangeChallenge: Summer Shots target game is the first target in a series of downloadable target games anyone can participate in to advance firearm safety and promote firearms training in a fun activity. Sign up to participate in the #RangeChallenge: Summer Shots Target and receive a FREE official target, shirt or hat (while supplies last) and/or in-store offers. Participants can also enter to win giveaways posting to Instagram and using #RangeChallenge.
NEW! Early Bird Classes
We are now offering 6AM Intro to Pistol Classes at Bristlecone
to help you get in, get out and get on with your day! This 4-hour course gives a great foundation to build from. You'll learn about general safety and handling, how to select the right handgun for you, ammunition and basic drills in the range – all before 10AM! Check them out on our calendar and register here.
Membership
Summer Members – we've enjoyed having you with us! Your Memberships are good through Labor Day, so you've still got plenty of time to hit the range. Please keep in mind that if you purchase a standard Membership (monthly or annual) before Labor Day, you'll get the $99 you spent on your Summer Membership off of the price of the standard Membership! That's like getting your whole summer on us! Contact Jennifer Stitt, Director of Membership, with questions at jstitt@bristleconeshooting.com.